Directors are appointed by the voting shareholders as set out in the WaterNSW Act 2014 and hold their office for a period up to five years, which may be renewed by the Shareholders. The Board of Directors is to consist of not fewer than three and not more than eight directors and have between them the necessary expertise, skills and knowledge that will enable WaterNSW to meet its objectives.
Chair
Peter Duncan AM
Commenced: March 2022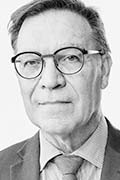 Peter Duncan has over 40 years' experience in government and infrastructure, working at local, state and national levels. He has held various senior public sector roles including local government, Premier and Cabinet, Transport for NSW, Primary Industries and for the Olympic Coordination Authority.
His current appointments include Chair of ARTC, WaterNSW, NSW Local Government Boundaries Commission, non-executive director of the Westpac Rescue Helicopter Service and board member of the Office of Projects Victoria.
He is the principal of an advisory business, chairs the Northern Rivers regional advisory committee of the Rescue Helicopter Service and shares his time between work in Sydney and his property at Corndale.
Go to top
WaterNSW acknowledges the traditional custodians of the lands and waters on which we work and pay our respects to all elders past, present and emerging. Learn more