Raw water management
Managing raw water quality across NSW.
At WaterNSW, there are many ways we maintain raw water quality, however, it is important to realise that our waterways and storages are part of the natural environment and, as such, can be impacted by natural events such as rainfall that can wash debris into our river systems and storages. This debris can adversely impact raw water quality.
Regional NSW
In regional NSW, we monitor raw water quality in our river systems and storages, looking specifically for signs of blue-green algae or for signs that a waterway isn't healthy.
An unhealthy waterway can adversely affect fish, birds and other wildlife. If we detect that a waterway in not healthy we will contact other agencies, such as Department of Fisheries, to come and investigate.
Greater Sydney Drinking Water Catchment
Managing the Greater Sydney catchment areas and ensuring we reduce pollution risks is a key responsibility of ours. Additionally, we also regularly monitor water quality in our dams, canals and pipelines.
Close
Multi-barrier approach
The multi-barrier approach to protect Greater Sydney drinking water quality: Catchment to tap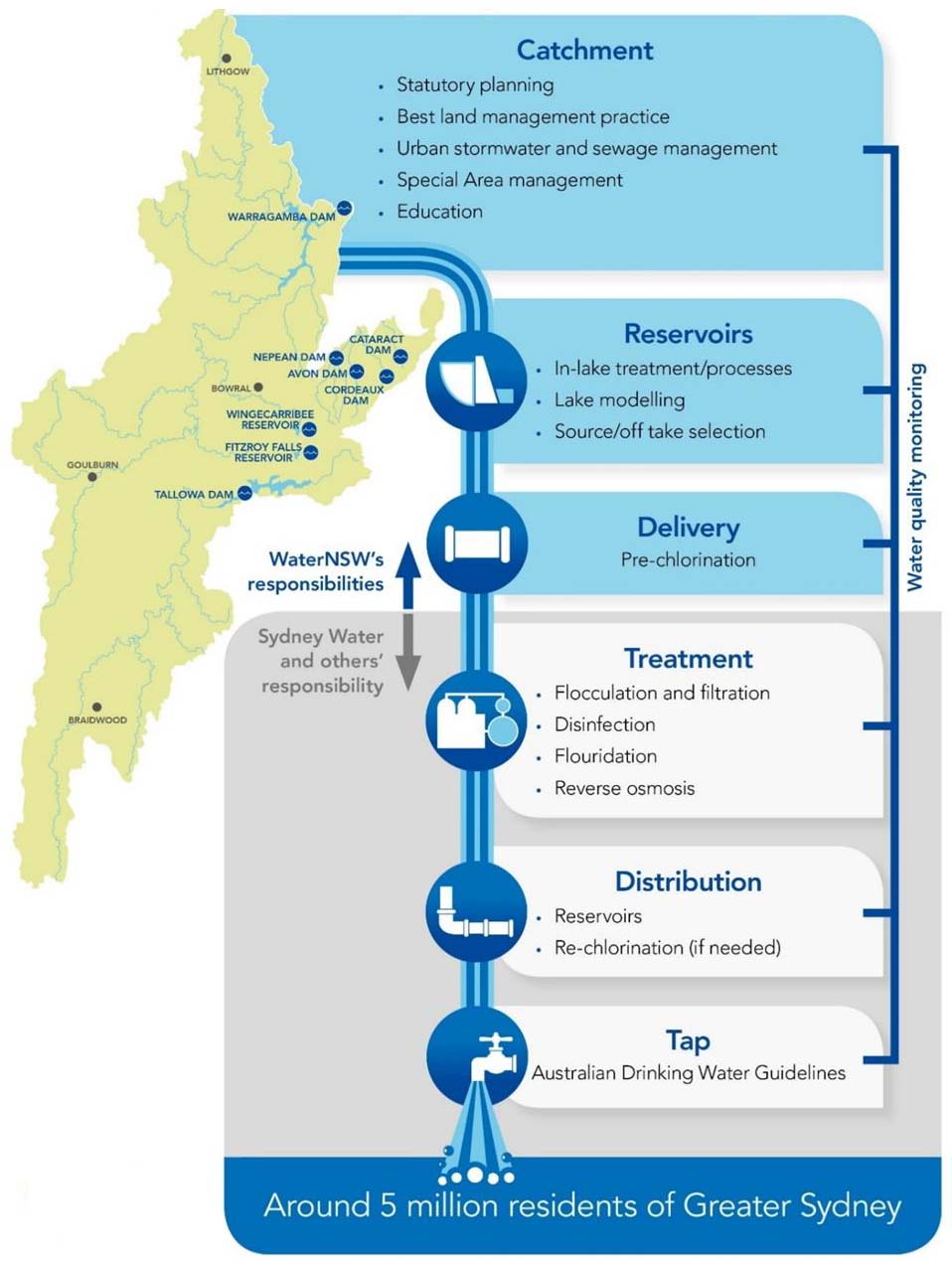 Pollution sources
To avoid polluting the drinking water catchment, it's important you understand what some of the pollution sources are. There are a number of potential pollutants. These include:
sediment
pesticides and chemical from farming and industry
nutrients such as phosphorous and nitrogen from fertilisers and detergents
algae
pathogens are disease causing micro-organisms found in human faeces, animal poo and bird droppings.
If you live in the drinking water catchment it's vital you are careful with how you use and manage potential pollutants on your property and land. Visit managing water quality to find out more or finding pollution sources .
How to maintain water quality
There are a number of things you can do to better protect and maintain water quality. We have provided practical tips to help landholders manage their property to help keep waterways healthy.
Go to top
WaterNSW acknowledges the traditional custodians of the lands and waters on which we work and pay our respects to all elders past, present and emerging. Learn more