Serving NSW customers and communities.
WaterNSW has over 1,000 employees working from over 60 offices across NSW. We employ experts across many disciplines, including engineering, science, business, finance, community engagement and customer services. Our people are highly engaged and are focused on making a real difference for the people of NSW.
Our values
Our values are the principles and behaviours that drive us to succeed as both teams and individuals every day at WaterNSW. They reflect who we are and what we represent.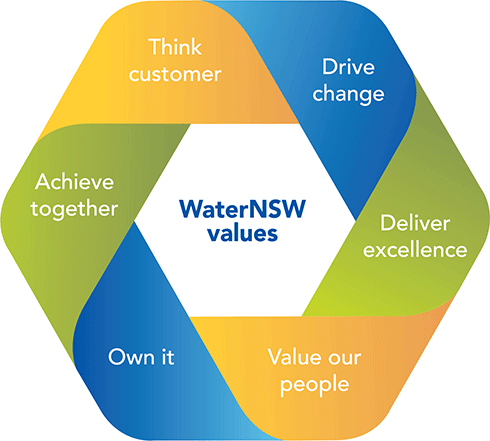 Policy statement
The Board and Management of WaterNSW have zero tolerance to fraud and corruption; and commit to the control (prevention, detection and response) of fraud and corruption.
All staff are expected to act in a professional and ethical manner, following legal requirements and maintain and enhance the reputation of WaterNSW. This includes remaining vigilant to any suspected fraudulent or corrupt behaviour, and fully cooperating with the implementation of fraud and corruption prevention and control strategies.
Go to top
WaterNSW acknowledges the traditional custodians of the lands and waters on which we work and pay our respects to all elders past, present and emerging. Learn more