Trading water
Trading water
Water Sharing Plans in NSW allow the trade of allocation water subject to some conditions. Follow the four easy steps below.
Please download a separate allocation assignment form (from appropriate link below) for each trade to avoid duplicate applications.
Regulated Water
Groundwater
Unregulated Water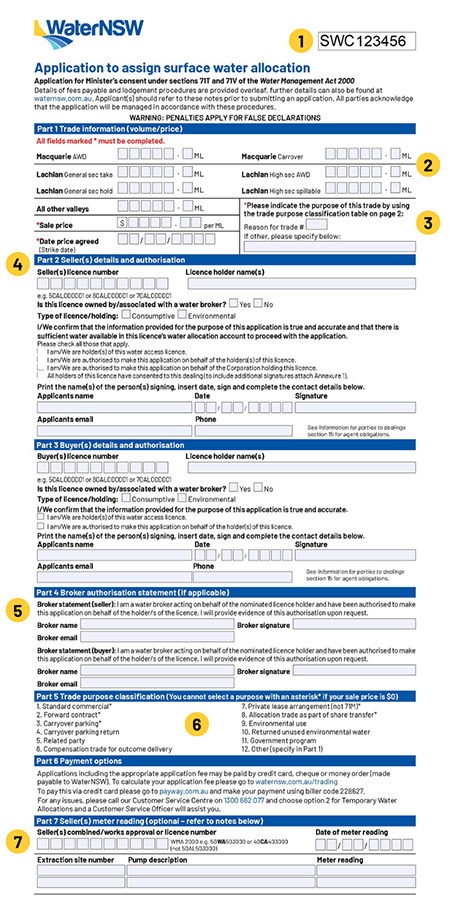 1. This is the reference number of your form. The number on each form should be unique and allows WaterNSW to quickly track the progress of your application. You will also need to use this reference when making your payment via PayWay.
2. This section is where you enter the volume and price of the water you want to assign (trade). You can check the current available balance on your licence by calling the Customer Service Centre on 1300 662 077, or by logging into your iWAS account.
3. If the sale price is zero ($0) and permitted for a trade purpose, please enter the Trade Purpose Classification stated in Part 5. If other, please enter the reason in the box provided.
4. This is where the seller completes the details relating to their licence. Remember to indicate your authority to make the application and record the registered licence holder details of the licence. If you would like WaterNSW to notify you when the application is complete, don't forget to include your email address.
5. If the application is being submitted by a Broker, enter the Broker's name and email address. WaterNSW will notify the agent when the application is completed.
6. This section lists the Trade Purpose Classification. Please note, if your sale price is $0, you cannot select a purpose marked with an asterisk.
7. This is where the seller can complete their Meter Reading
You can read more about the update as well as a guide on the new changes in this how to guide.
Regulated Water
There is an application fee of $49.92 (GST free) for each application to assign regulated surface water.
Make a payment via credit card (PayWay).
WaterNSW now requires the payment of variable usage charges for all allocation assignments involving a buyer licence not linked to a NSW Works Approval.
Applicants should note that the variable usage charge will be based on the valley of use. Variable usage charges should be included with the transfer fee on application.
Please contact Customer Service Centre on 1300 662 077 to confirm the usage charge in your valley prior to lodging your application.
Groundwater and Unregulated Water
There is a $50.55 (GST) application fee for each application to assign groundwater and unregulated water.
Make a payment via credit card (PayWay).
Where can I find more details about these fees?
The above fee structures have been set in accordance with the relevant IPART Water Pricing determinations.
Details of the fee and IPART determination can be found on the fees and charges page.
Applications can be emailed, faxed or mailed to the address below.
WaterNSW
8-20 Edwardes St
PO Box 453
DENILIQUIN NSW 2710
Phone 1300 662 077
Fax (03) 8668 1154
Email water.trade@waternsw.com.au
If you are emailing or faxing your application make sure you send each application separately to ensure that no forms are missed. It is also a good idea to include your SWC reference number in the subject line of the email so that we can identify your trade quickly if you need to enquire about its progress.
Important dates to note
Updates to the Water Allocation Trade Forms
WaterNSW updated its allocation trade forms for surface water commencing 1 July 2020 in response to recommendations received from the Murray Darling Basin Authority (MDBA) trade price audit.
The NSW Government and WaterNSW has welcomed and supported these reviews and are committed to improving the transparency and function of water markets to the benefit of all industry participants.
You can read more about the update as well as a guide on the new changes in this how to guide.
2021-22 Season closing dates
In accordance with the relevant Valley Water Sharing Plans, please note the following Season Close dates for water allocation trading:
Murrumbidgee Regulated Water Interstate – 11:59pm 30 April 2022
Murrumbidgee Regulated Intravalley – 11:59pm 31 May 2022
All other Regulated Water, Groundwater and Unregulated Water (unless otherwise noted) - 11:59pm 30 June 2022
WaterNSW will not accept customer requests to backdate or amend a water allocation trade application after the 30 June season close date.